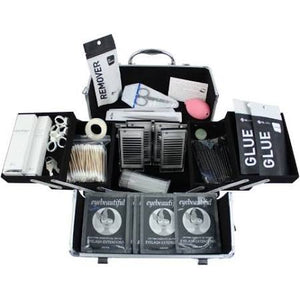 Dove Lash
Eyelash Extensions Professional Complete Kit
Regular price
$149.00
Sale price
$449.00
Professional Eyelash Extensions Complete Kit
FOR PROFESSIONAL USE RECOMMENDED
Description
Contents:
2- 5g Ultra X Glue
1- Blink Gel Lash Remover
4- eyebeautiful Mink Mixed Length Lash Trays (C, B, J, D Curls) 0.25 mm thickness
100- White Micro Brush Swabs
25- Disposable Mascara Wands
100- Cotton Swabs
25- Pairs of eyebeautiful Gel Patches
1- Bottle of Lash Primer
1- Blink Coating Sealant
1- eyebeautiful Straight Edge Tweezers F Type
1- eyebeautiful Straight Edge Tweezers I Type
1- eyebeautiful Mini Scissors
1- Small Jade Stone 1"
5- Glue Rings (2 compartment)
1- Adhesive Tape
1- Pink Air Blower
10- Aftercare Appointment Cards
The four (4) Synthetic Mink Lash Trays that comes with the kit are 0.25 mm thickness and offers 12 rows of mixed length between 8mm to 14mm. Each tray is a different curl type. Kit includes 1 tray C curl, 1 tray B curl, 1 tray J curl, and 1 tray D curl with a total of 4 trays.
carrying case dimensions are 267x165x190mm
2 Ultra X 5g Kit
Everything that is necessary to doing great eyelash extensions.
---
Share this Product
---
More from this collection